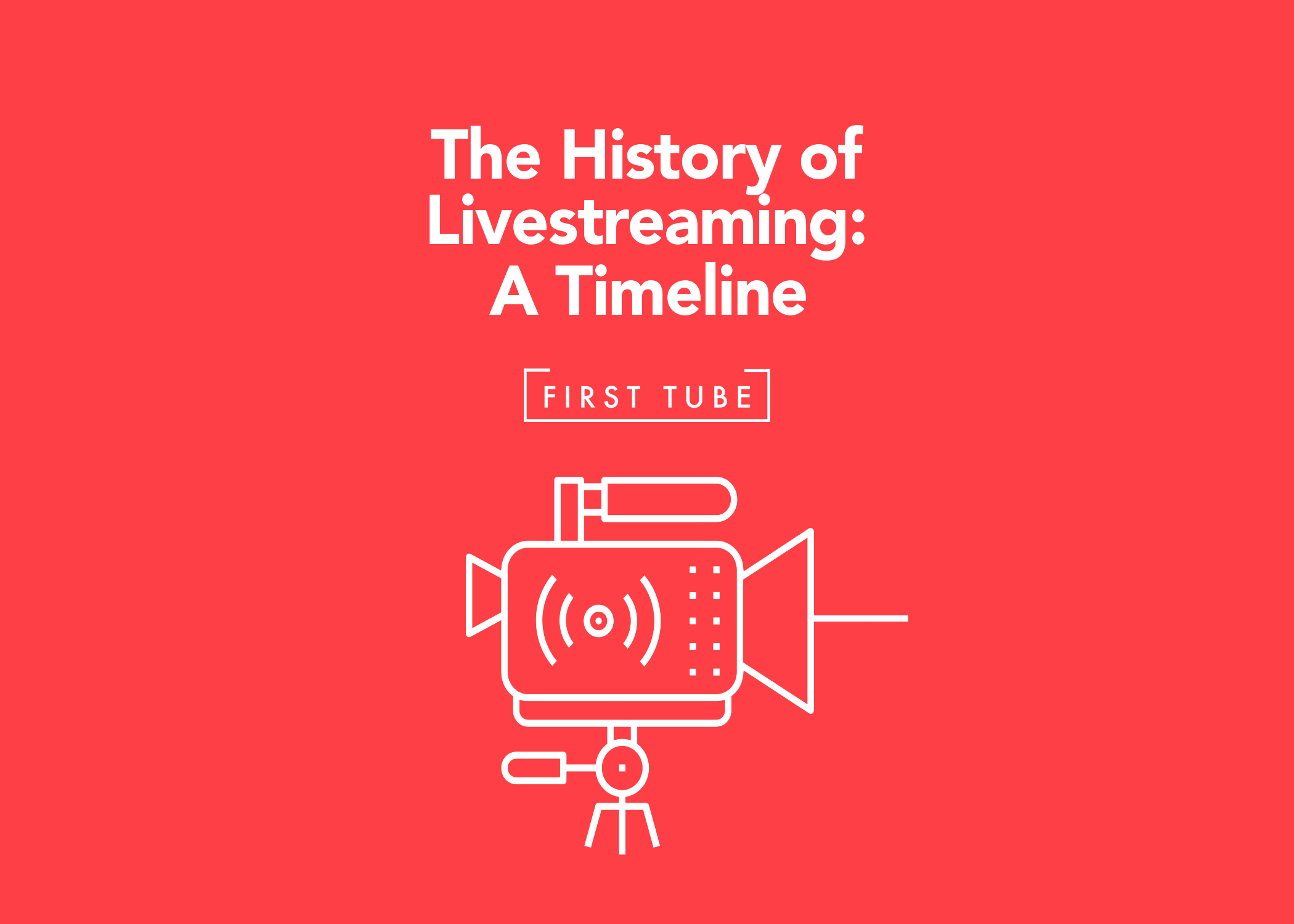 FROM LIVESTREAMING TO LIVE DIGITAL EXPERIENCES: A TIMELINE
FT Reports | 9.15.22
Today we take streaming a video, let alone interactive, real time communications, for granted. But in 1993, it took a band – yes, we mean musicians – of tech wizards to light the livestream spark that got us on the always-broadcasting path we're on. The confluence of broadband access, readily available content and technology, and peaking demand made livestreaming widespread. But COVID-19 and masses of new online meetings introduced hundreds of millions to this "new" form of communication that has been percolating since the early 1990's.
In recent years, China has discovered an ideal mix of live streaming and e-commerce, and as TechCrunch reports, 265 million people made purchases on live streams in 2019 – a number that is only going up. Obviously "home shopping" networks have existed for some time on TV, but what we're seeing now is a new level of interaction with customers.
Truly deep live digital experiences are what's next, with new technologies launching to engage viewers and, of course, customers of all kinds. Holograms, spatial audio, the expansion of social commerce, and augmented reality are going to build upon this brief timeline of accomplishments in live streaming – and will forever change how we interact with brands and one another.
1993
The band Severe Tire Damage streams a music performance using the mBone network tech, which was designed to eke out performance of very slow modems of the day. The performance reportedly used up half the bandwidth of the Internet at the time, clocked in at about 4 frames per second on delivery, but got the band a gig opening for the Rolling Stones.
1995
Macromedia debuts the Shockwave Player, which will be the defacto standard multimedia player for games and later video (as Flash) in browsers for years to come. Also, RealPlayer is used to broadcast audio of a Seattle Mariners vs New York Yankees game through ESPN's SportsZone. It's the first sports broadcast of its kind on the net.
1997-98
RealVideo debuts, allowing video playback through the RealPlayer add on. That same year, ShareYourWorld, the precursor to YouTube, launches. It's clear those building the future of live video tools want others to share their experiences! But the downsides of living life online are already being explored by Hollywood, as The Truman Show debuts, and EDtv is in production. Both show how ordinary people fare when under the gaze of millions, 24/7.
1999
A huge year for tech, as Microsoft's Windows Media Player and Apple's QuickTime adopt streaming support. The dot-com boom is still raging, with livestream network pseudo.com broadcasting multiple channels of video, including DJ's and chat rooms. Perhaps the biggest event for live streaming, however, is the "Town Hall" webcast featuring President Bill Clinton. It was the first presidential webcast, with an interactive Q&A session at the end that went over time as it was so popular.
2000
The founder of pseudo.com, Josh Harris, the subject of the movie We Live In Public, wires his New York penthouse with cameras and live streams his life, along with his fiance at the time, who was an on-air personality for MTV.
2005
The industry reels from the dot-com collapse, although broadband adoption continues to grow. While many believe live video is a long way off from being profitable, Stickcam debuts, offering not only an easy solution for streaming video to others, but a way to embed that video on a web page with live chat. Stickcam is used by Andrew W.K. That same year, YouTube, which would be bought by Google the next year, opens video uploads to the masses. Traffic goes through the roof.
2006
Crunchyroll, featuring streaming content from East Asia, launches in America. Justin.tv launches after the founder, Justin Kan, broadcasts his life 24/7 like Josh Harris, but using EVDO modems and mobile phones, is able to take his stream with him, including on dates. Justin.tv would eventually spin off Twitch, which would be acquired by Amazon.
2008
YouTube held its first livestream, with an all-star lineup in two cities… but the company didn't allow just anyone to go live until 2013. The platform's live Q&A with President Obama in 2010 was a particularly notable live event!
2011-2012
Twitch launches in 2011. Vine launches in 2012, defying the odds by providing 6-second clips only. Many YouTubers popular today launch their careers on Vine, with audiences making the jump once Vine is acquired and shut down by Twitter.
2015-16
"Year of the Livestream" according to many pundits, including TechCrunch and the CEO of Livestream.com. Meanwhile, the Global Citizen Concert is simulcast on TV and MSNBC.com, raising money for charity. Over 50 million watch a StarCraft 2 tournament, and 17 million come from Twitch. But one of the most watched events was a science experiment: slamming a probe into a comet. This is also the year Facebook released its own live streaming solution – with a built-in audience of over one billion.
2019
Live events online have long included esports, but the Fortnite Meteor began a popular trend of in-game events, like the April 2020 Travis Scott live concert "Astronomical."
2020
China has been perfecting its live shopping events over the last couple of years. In 2020, it becomes a $300 billion market. The largest ecommerce and social media platforms are interconnected there – meaning they built the ability to buy within the platform and, as a result, users don't have to leave platforms to make purchases. (See WeChat.)
2021
Social platforms and brands begin to dip their toes in the live shopping event waters. Facebook launched "Live Shopping Fridays" for health and beauty products. Brands like Abercrombie and Fitch and Bobbi Brown participated. Walmart and Twitter – and singer/emcee Jason Derulo – partnered for the platform's first-ever live shopping event. Likewise, live experiences with 1:1 interactions are possible even in stores, with devices like the PORTL, now being tested in an experience in Canada.
2022 and beyond
In the U.S. live shopping on social platforms is in its infancy stage. The Chinese market currently outperforms the U.S by about a factor of ten. But you can imagine livestreamed events with personal 1:1 experiences, like AR-enabled virtual fittings and in-store interactions. It's easy to see how live digital experiences are evolving into comprehensive marketing experiences for consumers.