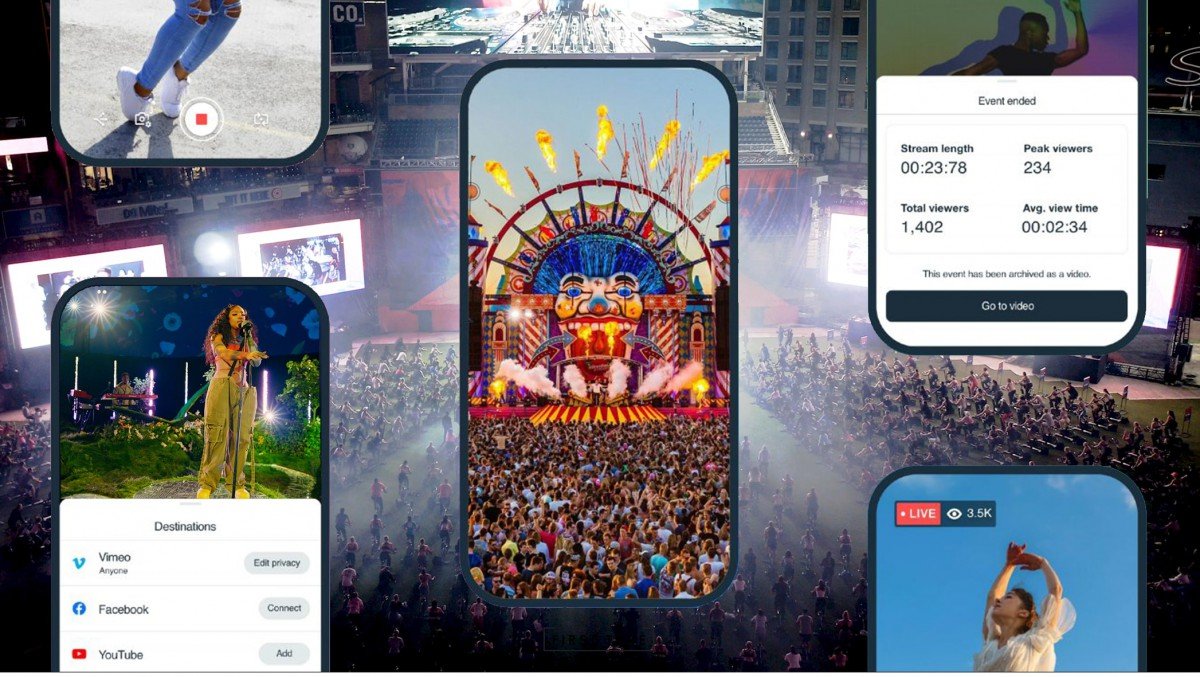 IRL + IVL: WHY HYBRID EVENTS ARE THE WAVE OF THE FUTURE
Andy Cohn | 9.27.22
If there is anything the past couple of years have taught us: Brands need to be nimble. Having more than one-path to audience engagement is not only a survival tool but the only way to reach new audiences and pave the way for innovation because, as marketers know, they must evolve.
Here are a few reasons why in-real-life (IRL) + in-virtual-life (IVL)— the hybrid live events model—is the smartest marketing model moving forward:
A virtual component adds reach across locations
'High touch' in-person experiences offer accessibility and inclusivity to people around the world. Sales for popular summer and fall concerts, sporting and cultural events this past year indicated that fans were excited and willing to return to crowds. Tickets for Bonnaroo were steady. Movie festivals, like the Tribeca Film Fest, and sports events such as the Indy 500 in Indianapolis and U.S. Open Golf Championship in San Diego saw their passionate fans return in-person.
Even with events and venues now open, brand marketers need to continue to layer on meaningful live digital experiences and engaging content to meet, and draw in their on-screen audiences. You can magnify reach and engagement, thus increasing opportunities for conversion as you do.
When Tito's Vodka was looking for a solution to COVID-related canceled music festivals, we built a livestream and VOD music concert series instead. Tito's "MADE TO ORDER" was a four-episode series set in the four corners of the U.S., where we celebrated the music, culture, and food of each region. In addition to performances from bands like Portugal. The Man, Summer Walker, and Dierks Bentley, we customized a mix of DJ's, artists, and chefs from each region, and spotlighted food pairings and cocktail recipes filmed on Tito's farm.
Tito's generated nearly 35 million impressions, over 18 million video views, and 378,000 hours of watch time from all over the globe. You can't achieve that with a one-location-and-done event.
Hybrid models allow for goals-focused innovation
A brand-owned, hybrid approach also opens the door to innovation. You are not limited to what can be done on-site; the virtual world is expansive and allows for expansive ideas.
If you start with the goal — create a sense of urgency on behalf of an upcoming product launch or sign up 5,000 new customers in May — that expansive world becomes more focused, and you can build customized extensions around them.
Anheuser Busch (AB) had a few objectives for its Reventón de Verano (Summer Blowout) livestream festival. First, they wanted to celebrate Hispanic culture, music, and community. They also wanted to make a big consumer splash to kick off the summer season. So, they worked with us to program, produce, and promote a three-hour, live digital event featuring their portfolio of brands, and Maluma, Prince Royce, Becky G, Eva Longoria, Wilmer Valderrama, and other Hispanic entertainers across multiple locations.
Lastly, AB wanted to reward stakeholders with exclusive moments — and that's where the hybrid approach came in. They opened the event's doors to 25, in-person influencers and employee guests as a way to build buzz and offer employee incentives. The seated guests got a once-in-a-lifetime opportunity to be up-close with some of their favorite talent.
With the sports world now open, brands are adding smaller, talent-led virtual experiences to their in-person events. It's the equivalent of the red velvet rope and bouncer-with-a-list fans have a love-hate relationship with. It's the kind of activation that tends to spread on social platforms and leaves fans wondering how they can get lucky next time.
Festivals also provide a big opportunity to blend in-person and online. We're currently building branded content programs where, for instance, a fan can scan a code at the festival, allowing them to be the first to listen to a new song by the performing artists.
Virtual means better data collection and measurement
Every brand marketer wants to know if their media and experiential activations actually work and how.
With IRL-only experiences, you can measure attendance, tickets and merch sales, social media activity, and earned publicity impressions. But, generally, that's where it ends.
Virtual experiences add a performance marketing element to live events. On top of the above, IVL extensions add reach, impressions, video views, time spent, geographic and other demographic details, first party email and data capture, ecommerce conversions, integration into CRM, and more.
Grubhub has captured more than 60,000 emails and generated 250,000 orders as a result of our Sound Bites music series. Skullcandy generated 9 million new first-party data cookies, grew subscribers 219%, and captured a 35% engagement rate when they launched "Now Feel This," an always-on livestream platform featuring emerging artists. That data is theirs to grow with.
Brands can use these inputs to identify new ambassadors, understand which part of their event resonated most, segment audiences, or kick off loyalty marketing campaigns. That first post-event communication from brand-to-fans can lead with a never-before-seen outtake from the event's rehearsals and a limited time discount code to purchase a new pair of sneakers.
At this point, we can safely say that at least 90% of marketers understand how digital live experiences could work for their brands. The question is not so much if digital events are the right approach, but how brands will apply them to their event marketing plans moving forward.