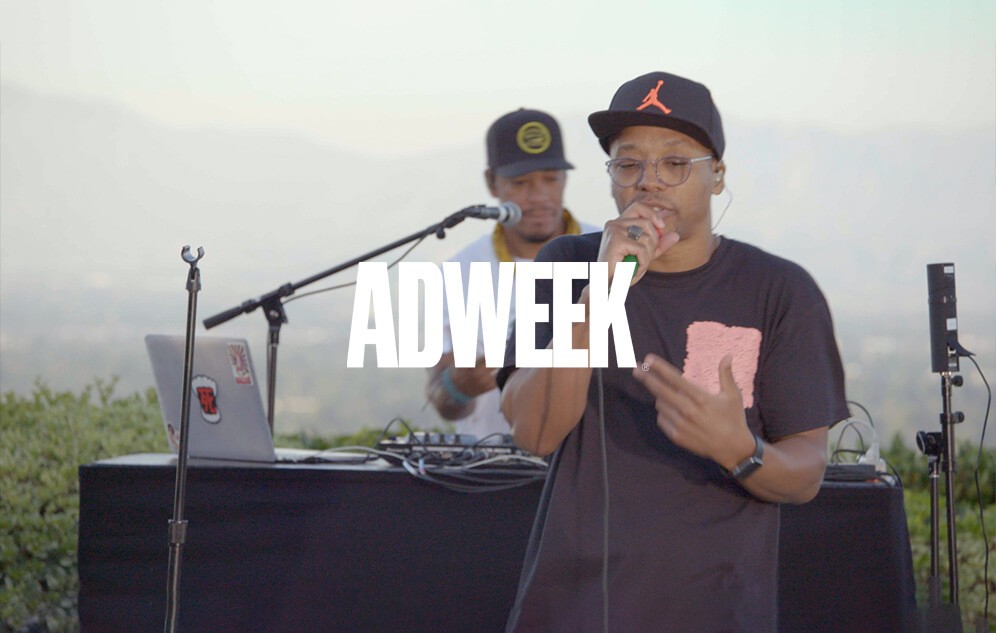 Grubhub's Livestream Event Series Is Bringing the Brand to Millions of Viewers
Richard Collings 8.18.20 | Link to Article
The latest live performance by Lupe Fiasco was seen by 1.7 million people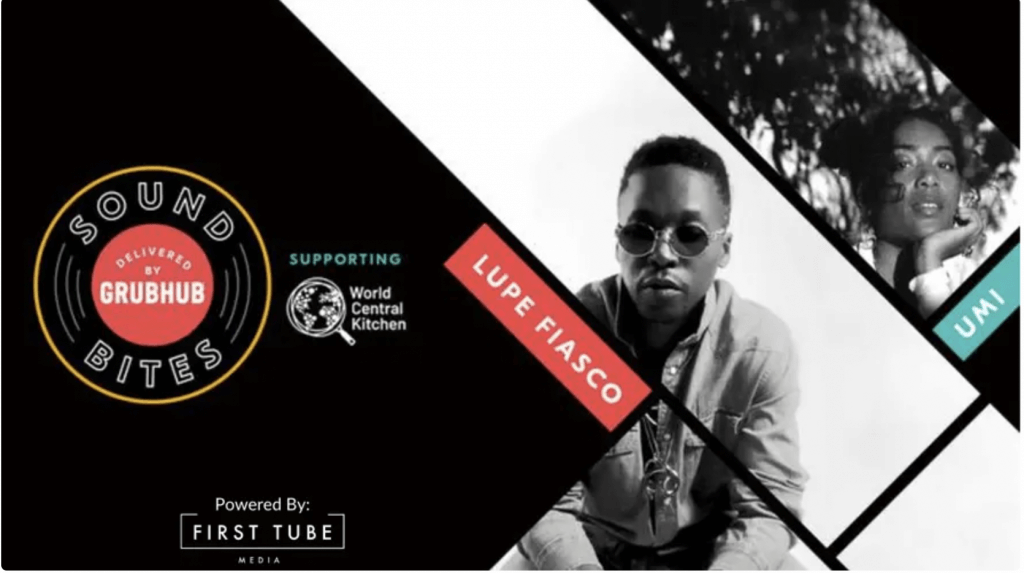 Lupe Fiasco is the latest performer to be featured in Grubhub's livestream event series. Grubhub
Before the pandemic, Grubhub was already in the throes of offering a hybrid virtual and live event series. But with in-person events replaced with virtual ones, the company pivoted in that direction, leading to the birth of Grubhub Sound Bites, a series of livestream performances by leading artists.
The event series has gone on to have millions of views, with its latest livestream concert featuring rapper Lupe Fiasco and R&B artist UMI garnering some 1.7 million viewers and more than 300 comments per minute, the company said.
Overnight, Grubhub went from a nonessential to an essential business, finding itself well-positioned in the wake of Covid-19 to boost its business, said Jessica Burns, the company's vice president of brand marketing and creative. To seize the moment, Grubhub believed it needed to get in front of diners as quickly as possible, but in a way that connected directly with consumers, she said.
"What we realized over the last six months is we wanted to be brand out and community in," said Burns.
With customers investing more time on digital platforms during quarantine, Grubhub saw livestreaming of musical performances as a way to be present in people's lives, Burns explained. It was also a way to tap into a highly engaged audience, she said: Research revealed music was one of Grubhub users' top interests.
The company features the concerts on YouTube, as it offers the best channel for both livestreaming and post-event engagement. According to Grubhub's partner on the project, creative agency First Tube Media, watch time on the channel is between 30 and 40 times greater than on any other platform, with an average of 19 minutes.
The events have proven so popular that they have spurred Grubhub to continue the livestreams this fall, but with college students in mind.
"We've always gone into Sound Bites thinking it was an upper funnel engagement play [building brand awareness]," she said. "What we've seen along the way is meaningful lower funnel results [conversion to sales]," she added.
Grubhub, in part, has driven lower funnel results by integrating features with the programming, such as its newly launched Grubhub+ loyalty program, offering members the opportunity to participate in a Q&A with Lupe Fiasco, Burns said.
The brand also began offering incentives during the show to get viewers to order food on Grubhub, which is key from a return-on-investment (ROI) perspective, Burns said.
"When you think about growth for the brand, you think about driving brand equity and health, and that happens over time," she said, citing the need for both long-term brand building and short-term growth.
Grubhub worked with First Tube on the project due to the expertise in virtual experiences the firm built with brands such as headphones maker Skullcandy.
The agency not only understood the production side of bringing the concert to life, but also how to create a full-funnel marketing plan, Burns said. The partnership began pre-Covid-19—lucky for Grubhub, as First Tube's expertise is now in high demand, she added.
"Every brand is going to need to design their own IP to create their tune-in moments," said Andrew Beranbom, co-founder and CEO of First Tube, adding that the aim is to not only engage the existing customer base, but to also leverage talent to access a new audience, with an ultimate goal of driving actual orders as well as sign-ups for Grubhub's loyalty program with exclusive offerings.
As for selecting the artists, the food delivery service partners with a mix of unknown musicians and fan favorites, with an eye on the popularity of the artist to ensure they resonate with its customers, Burns explained.
"We think of them as brand ambassadors and brand influencers," she said.
In the case of rapper Lupe Fiasco, Grubhub had planned to livestream a performance in his native Chicago before Covid-19. Given his catalogue of music and fan base, and as a thoughtful human being, he was an ideal artist for the company to team with, Burns said.
First Tube's role, in addition to its other mandates, is to sign up that talent and iron out the related copyright and licensing aspects, Beranbom said. Fortuitously, it's not a hard sell to bring musicians on board.
"Creators want to create," he said. "Livestream becomes a format to do that during these weird times."