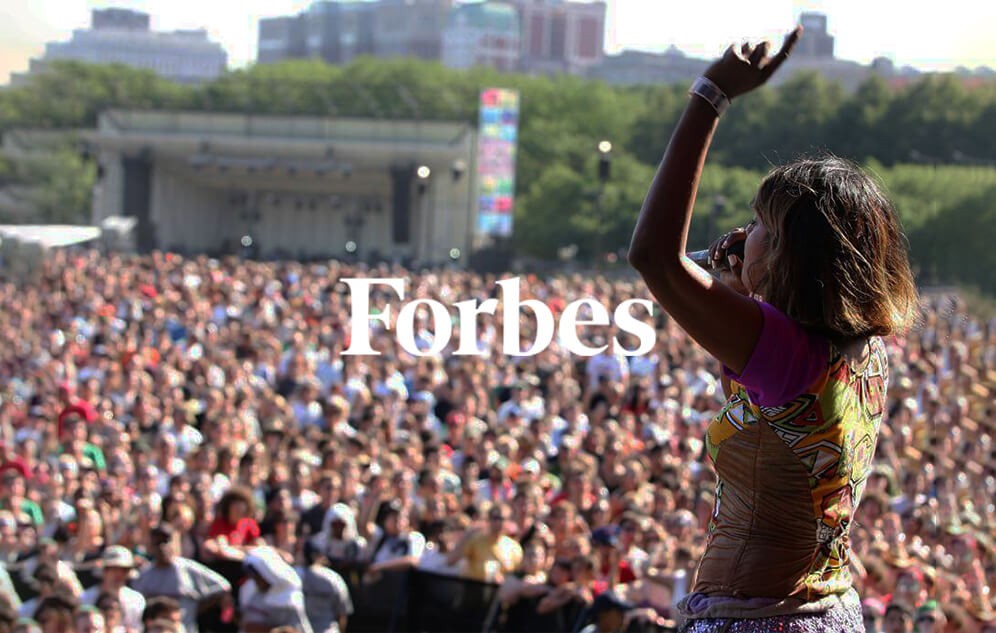 Livestreaming Poised To Take A Bite Out Of The $60 Billion U.S. TV Advertising Spend
Cathy Applefeld Olson 4.19.21 | Link to Article
When the Anheuser-Busch Reventón de Verano festival livestreams May 2 celebrating Hispanic music and culture, it not only will showcase global superstars including Maluma, Prince Royce, Becky G and Eva Longoria but also provide a deeply experiential advertising opportunity for its sponsor.
Produced by white-label platform First Tube Media, the virtual fest will see a different Anheuser-Busch beverage brand integrated into each artist session. The event offers a powerful return on investment for the company, says First Tube CEO Andrew Beranbom, just like its Bud Light Seltzer brand reaped by sponsoring the New Year's Eve livestream headlined by Post Malone.
"Sponsorship is going through a complete transition and brands have an opportunity to own the culture vs. attach to it," Beranbom says. Rather than "slapping a logo on a stage or a livestream, where the value is limited, we're creating experiences where the brands are able to create authority as well as authenticity with the talent. The target audience for every brand now is the attention span of your audience, which is about eight seconds. So brands are being forced to invest in premium content. Live is the antidote to the attention span."
"While the past year certainly provided us challenges, it gave us a unique opportunity to develop our capabilities of engaging consumers at home through digital experiences," says Ronnie Yoked, head of experiential at Anheuser-Busch. "After working with First Tube Media for our New Year's Eve event, we knew they were the perfect partner to help build our Reventón De Verano digital festival. While building an experience for any consumer is important, we wanted to ensure we were executing a best-in class effort to celebrate Hispanic culture, music and community right before summer begins."
Grubhub, MasterCard and Titos are among other First Tube clients that are making significant "experiential investments," Beranbom notes, as the global livestreaming market accelerates to a potential $247 million by 2027, according to a new report from Market Research Future. Couple that with the fact that brands can own all the consumer data around these virtual events, and there's a new game in town for companies as they assess how to allocate a TV ad spend that reached more than $60 billion in 2020.
"Brands and advertising have reached an impasse. It is no longer a question of if brands can reach people. They can. They have all the data, cookies, tags and programmatic available to find the "right people.' So, the new question is: What do you do once you find them?" says Heather Fullerton, CEO/co-founder, lili Studios, which creates and produces livestreaming experiences and counts Billie Eilish, T-Mobile and Nickelodeon among recent clients.
"The goal is to make the most interesting and valuable experience. Something that goes deeper than an ad. To redirect a portion of the $600 billion [global] marketing and advertising spend to creating experiences, access and moments—things people really care about," Fullerton says.
Shifting Advertising Dollars
When T-Mobile brand OnePlus introduced a new line of smartphones in January, it eschewed a traditional television ad and instead hosted a livestream event.
Called "The Drop," the stream was centered around a performance by Grammy-nominated artist Ty Dolla $ign that offered exclusive access to the artist and new music, and enabled viewers to experiment with a swath of 5G-powered features while enjoying the concert and a 30-minute pre-show that included trivia, polls and raffles.
Total unique viewership reached 1.3 million, with a 21.2 engagement rate. The company says that percentage is 10 times higher than engagement rates in social media—rendering rhetorical the question of whether T-Mobile will be doing more livestreams in the future.
"The Drop is a prime example of all that's to come in terms of our marketing initiatives for not just the N10 5G and N100 smartphones, but for our brand as a whole," says Cameron Kelly, OnePlus senior marketing strategist. "We will continue to work with our close partners to bring new experiences to our community and to new consumers in North America."
Connecting with brands in an authentic manner is a boon for participating artists, too. "I love any opportunity to perform for my fans during this time," Ty Dolla $ign says. "Teaming with OnePlus allowed me to create a dope experience that was completely different to being on stage but actually allowed us to deliver something so creative and hopefully unforgettable."
Bulldog Digital Media during the past 12 months has powered livestreams for clients that run the gamut from Justin Bieber and Reba McEntire to AT&T and Hyundai. Its shows have accumulated 61 million total views with an average watch time of 41 minutes. CEO John Petrocelli says that level of tune-in and engagement is a windfall for brands looking to cut through the clutter and connect with consumers—and will only grow in the hybrid environment of in-person/livestream shows.
"Because watch time is so long we're saying to brands, 'What do you want to do? Do you want to introduce a new product, do you want to focus on new customer acquisition or customer retention? Do you want to align with a particular cause?' " he says.
"Brands are getting very creative. They realize they're going to be rewarded for presenting a show, so they are not going to offensive or invasive about it. It's not like plastering a giant banner ad over a page but more of a complementary experience," he says.
Petrocelli, who formerly worked at live entertainment promoter AEG, says one of livestreaming's greatest benefits is its ability seamlessly connect all marketing dots for a brand. "That's a big takeaway for me from working at AEG. Sponsorship is a great revenue driver. What I learned is, the person who runs sponsorships has a colleague down the hall who runs media, and another colleague who runs social and another who runs experiential. If you bring them together, it becomes really tremendous offering."
Lili's Fullerton concurs. "Every livestream experience or episode is an opportunity for branding or a product launch, whether it is for an artist or a company's brand," she says. "Brands need to be thinking about what people really care about and in doing so deliver that in spades as it aligns with your brand or product. What can you do for them? What can you do for culture? From the lili perspective, this is where interactive livestreaming comes in."
"It's all turning upside down," says First Tube's Beranbom. "Brands are becoming producers; they're becoming filmmakers; they're becoming publishers. Publishers are trying to hold onto these 80 percent margins on their media value, and brands are starting to be like, 'I don't know if I need to pay you Rolling Stone. I can just go publish this [stuff] myself and amplify with my own media dollars to my target audience."
Owning Your Data
Case in point is First Tube's work with Grubhub, which launched its Sound Bites music streaming series in July 2019 and pivoted last year to a fully digital experience showcasing artists including Anderson.Paak, Charli XCX, Megan Thee Stallion and Alan Walker performing in unique settings. Many of the streams also have a social impact element.
As word continues to spread about the series, Sound Bites tune-in has skyrocketed from about 30,000 for the first episode to more than 6 million for the ninth in the series. Average watch time ranged between 8.5 and 19 minutes per episode.
"Working with First Tube Media has allowed us to take Sound Bites to new levels and really differentiate in the space." says Mandy Cudahy, director of marketing, content and social at Grubhub. "Their expertise and full-service capabilities have allowed us to create unique experiences and engage diners like never before. This program has truly resonated with our customers in an incredible and authentic way resulting in driving both social impact and business goals."
A "massive" part of the business model for First Tube, says Beranbom, is that brand partners own all data from its activations, beginning with event RSVPs that create a prime opportunity for capture that simply doesn't exist around solely in-person shows.
"As the world turned over, the Live Nation price points, for what the value is, didn't line up. Why would you do that when you're better off owning it? You'll get 10X the value," he says. "And you can create data capture opportunities, first-party data opportunities, sell product and engage in commerce, and own that messaging. It straight out works."