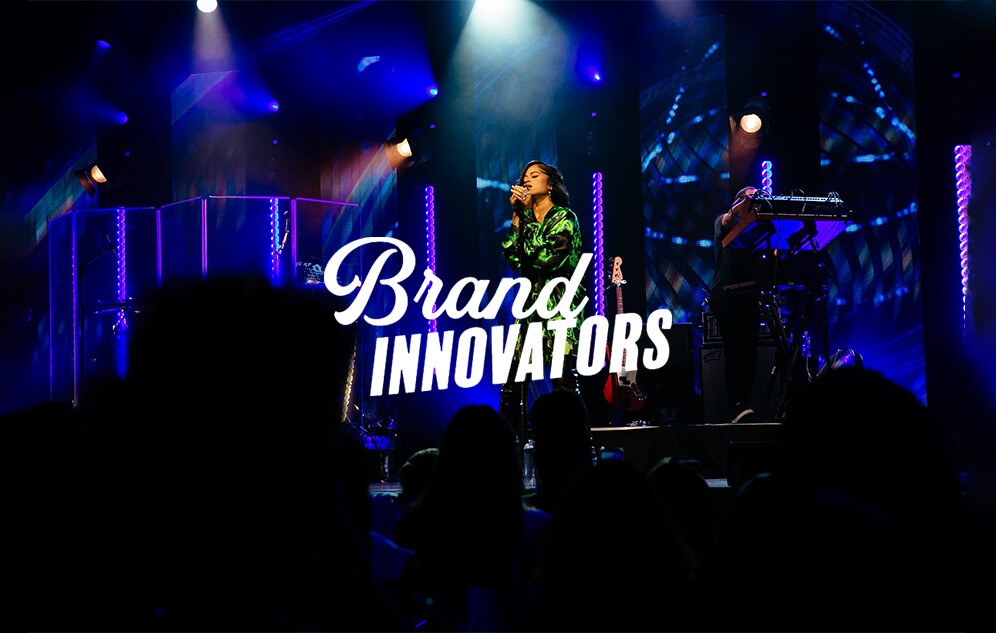 How Grubhub is Reaching New Audiences Via Livestream Music Events
Dianna Dilworth 9.10.21 | Link to Article
Reaching new audiences can be a challenge for brands looking to cut through the clutter of banner ads and social media posts. Grubhub has found success through its ongoing live music series Sound Bites, which has already featured Anderson Paak, Ella Mai, Charli XCX, SHAED, 24kGoldn and SAINt JHN.
"Grubhub is always looking for ways to provide our diners with the best value," says Mandy Cudahy, Director of Marketing at GrubHub. "Through the whole diner journey, what are the ways that we can make sure that we are appeasing our diner base, whether it is monetary, having the best prices, the quickest delivery times and we give you the best dining entertainment."
About a year and a half ago, the company debuted the concert series, which includes an in-person (when possible) and virtual broadcast of a live concert sponsored by the food delivery app. The idea is to provide these entertainment moments for diners while they are enjoying their food in a way that they aren't getting from other food or delivery brands. Dinner and a show.
"Ordering your meal on a Saturday night, if you have no plans, tune in to our show, you will get great entertainment, you can enjoy a meal with our artist, which is a pretty exclusive experience and also save some money, as we will give you a discount on your order," Cudahy explains. "It was really around providing that value add to our diner base."
Grubhub got into live after doing brand surveys about what consumers are passionate about and found that music kept coming up among their audience. "It was also one of the areas that our competitors aren't playing as heavily in," says Mandy Cudahy, Director of Marketing at GrubHub. "Our competitors are pretty heavy in the sports space. Not saying that we don't appeal to sports fans, we do, it is more just where we can really own and make an impact with the community. Music is one of those spaces and so is gaming, as a way to connect with our diners' passion points and provide a little bit more value that makes them feel more warm and fuzzy about the brand."
Sound Bites started before the pandemic, as a hybrid event with in-person performances and a large virtual component. Since livestream was their strategy from the beginning, they did not have to pivot anything during COVID. "More people were craving that live music experience and we saw our numbers skyrocket," Cudahy says. In fact, the program has reached more than 80 million unique viewers.
Partnering with artists helps the brand reach new audiences, as the artists promote the events on their channels. "If you think of talent as publishers, every one of them has a new audience of fans and the whole strategy is we use the talent to bring Grubhub New audiences as authentically as possible," says Andrew Beranbom, CEO and Founder of First Tube Media, the company that operates the program. "We use the entertainment hook and incentives to engage those net new audiences."
For Grubhub, artist partners allow the brand to become a part of the conversation in a more natural way, around the bands and artists that consumers are already talking about. These partners are carefully curated. "Artists are so important, we want to find people that authentically connect with the brand," Cudahy says. "We are not just going to throw a show out for the sake of throwing a show out. We really try to find the right people who are into food or foodies that represent our values. If that means we do one show a quarter to get the right person, that's what we do, just to make sure we are making all of these events truly authentic to our brand and interesting to our diner base."
These activations are helping Grubhub reach Gen Z and young millennial audiences, which are a key growth demographic for the brand. "We really look to partner with artists that help us reach this audience to help us acquire new diners," Cudahy explains. "These younger audiences are cord cutters, so TV and other traditional media channels aren't the right way to connect with them. These audiences crave these one-on-one experiences, so this type of program allows us to just connect a little differently and reach these incremental audiences that we are not currently reaching from some of our larger brand campaigns."
While virtual helps the brand reach audiences at scale, a hybrid approach is still important to the experience as it helps them activate local markets. Sound Bites has used these events as a way to reach people in key growth regions such as Philadelphia.
"Philly is one of our top priority markets as a brand, we are really trying to find ways to connect deeper with our diners and give our diners more intimate experiences," says Cudahy. "We figure by having these live experiences, we can go into these cities that we are really trying to focus on and provide more value by offering the chance to attend these dining and music experiences live. All events have a dining experience with a local food partner. It allows us to focus our experiences on local."
These experiences help Grubhub deliver more than just food, but the experiences that consumers are craving.
"We always saw live as being prioritized by every single platform, whether that be by TikTok or Twitch or Facebook or YouTube, as your audiences now are everywhere," adds Beranbom. "As every platform prioritized live, we saw an opportunity to rethink what sponsorship is by taking the idea of experiences and rethinking the format to leverage all the best capabilities of what digital marketing has right now, which is social distribution, video, talent-led experiences."