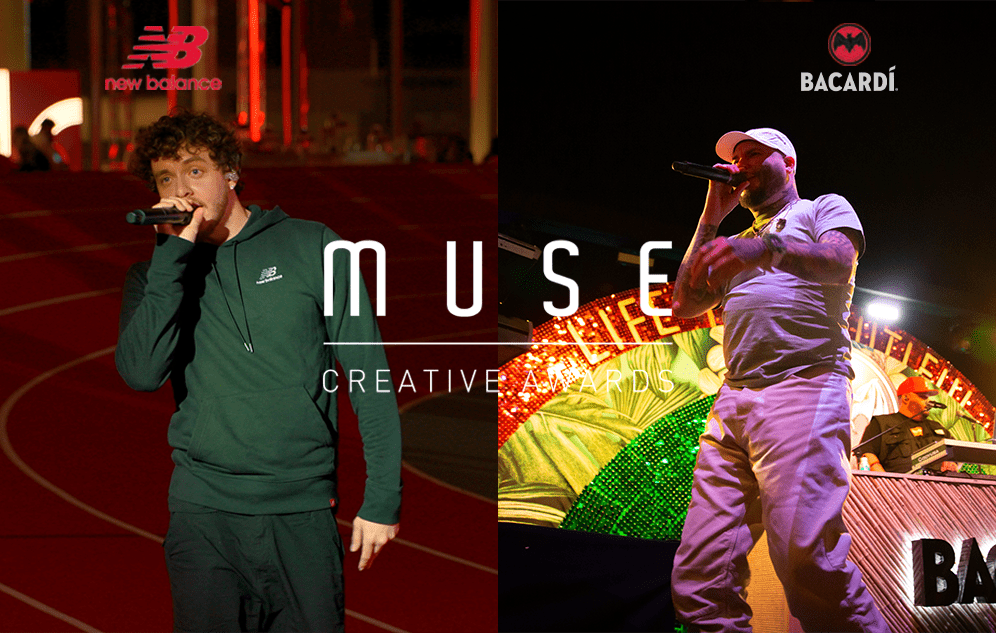 "WORLD PREMIERE OF THE TRACK AT NEW BALANCE" AND "BACARDI FESTIVALS" SELECTED AS PLATINUM WINNERS AT THE 2023 MUSE CREATIVE AWARDS
By Muse Creative Awards 4.25.23 | Link to Awards
The 2023 MUSE Creative Awards honored "The World Premiere of the TRACK at New Balance," featuring Jack Harlow, and "BACARDÍ Festivals," showcasing prominent artists such as Farruko, Jhay Cortez, and The Martinez Brothers, as Platinum Winners in the "Experiential & Immersive" category. New Balance received recognition for both Brand Engagement Events and Multi-Channel Experiences, while BACARDÍ took home this year's award for Live Experiences, all within the Experiential & Immersive category. These prestigious recognitions solidify First Tube's position as a leader in live digital experiences.
This year's success marks First Tube's third consecutive winning year at the MUSE Creative Awards. In 2021, "Grubhub: Sound Bites" was chosen as a Platinum Winner, while "In Bloom: Imagined by SZA" received the same distinction in 2022. These consistent achievements continue to establish First Tube as a frontrunner in the realm of live digital experiences.
New Balance and BACARDÍ have successfully leveraged immersive storytelling, strategic social media, and unique activations to drive brand awareness and engagement at key events.
New Balance aimed to introduce its new multi-purpose athletic facility, The TRACK at New Balance, to a global audience. To achieve this, the company used an immersive storytelling approach to transform the facility's opening from a localized event to a must-watch live digital experience that would position The TRACK at New Balance as a best-in-class venue in Boston's sports legacy.
The company employed a hybrid launch event that invited fans to experience a one-of-a-kind concert with exclusive press and fan touchpoints throughout the facility. New Balance used social media to build awareness and drive attendance to the event. The premiere campaign generated 22.8 million impressions and 18.3 million video views, establishing New Balance as a sports and culture authority to fans worldwide.
Similarly, BACARDÍ aimed to enhance the on-site experience at two major music festivals in the US – Governors Ball and Life Is Beautiful. BACARDÍ wanted to position itself as the unofficial host to kick off the festival season and to broadcast its experiences and energy to millions of viewers online through unique activations.
BACARDÍ adopted a hybrid event approach that reached audiences both in real life and online, ensuring that the online content was worth extended tune-in time. For Governors Ball, BACARDÍ created a new tropical-tinged pre-show featuring two buzzed-about DJ duos that were announced moments before they took the stage. At Life is Beautiful, BACARDÍ brought a 500-person activation known as Casa BACARDÍ to festival-goers and offered an up-close and intimate performance with Latin music superstar Farruko.
The BACARDÍ Summer Music Festival campaign generated 44.8 million impressions and 31.5 million views of livestream content with a reach of 14.7 million. The program exceeded all campaign KPIs, as well as the previous year's festival campaign delivery with Jhay Cortez. The live-streamed performance generated an average watch time of nearly 15 minutes on BACARDÍ's YouTube channel.
Both campaigns showcase the importance of immersive storytelling, strategic social media, and unique activations to drive brand awareness and engagement. These approaches allow companies to reach a wider audience and position themselves as an authority in their respective industries. By using a combination of on-site activations and online content, New Balance and BACARDÍ were able to engage with fans both in real life and virtually, generating significant impressions, views, and social media engagement.
Watch the New Balance event here!
Watch A CASA BACARDÍ here!